"Unleash the Power of Instagram: The Ultimate Platform for Product or Service Showcasing! 📸✨
Want to grow your company to new heights and gather a devoted following? You need look no farther than Instagram, the leader among social networking sites! 🌟
You might wonder why Instagram is the king of social media for promoting goods and services. It all comes down to the power of visual contact, I suppose. You'll fascinate your audience like never before by exhibiting your offers through breathtaking pictures, and you'll turn them into committed followers.💓
But there's more! Instagram presents a fantastic chance for brand owners and customers to interact with one another in whole new ways. It's a location where you can effortlessly display your incredible creations, increase sales, and establish an unshakable trust relationship. 💪🤝
So what brings me here today? I'm excited to offer ten ground-breaking tactics with you that will significantly increase your sales and take your company to new heights on Instagram. The nice news is that these strategies are effective whether you're an experienced seller or looking to boost your game. 🚀💰
Prepare to discover the Instagram success secrets and watch your company grow like never before. It's time to leave your stamp, claim the spotlight, and win your audience over. Together, let's embrace Instagram's power by getting started right away.🔥📈
ChatGPT is the popular AI technology nowadays so if you want to know more about its use or impact on digital marketing check it out here: https://bit.ly/441vs68
For free youtube keyword research tool alternatives to read check it out https://bit.ly/3APepqQ
Table of content:
1)Introduction
2)previous post recap
3)why it is important for a bussiness to choose Instagram as a selling point
4)10 actionable simple ways to boost sell on Instagram
5)conclusion
Why it is important for a business to choose Instagram as a selling point ?
Instagram, which ranks third behind Facebook and YouTube in terms of reach, engagement, and conversion, is without a doubt one of the best platforms for businesses.
Instagram stands apart because it is a visual platform. Visitors swarm to this website to view the eye-catching images and videos.
Therefore, you will certainly gain more followers if you can produce eye-catching graphics. When they demand the good or service you provide, these followers are more likely to choose your company. Instagram is a potent tool for expanding your brand because of its distinctive aesthetic appeal.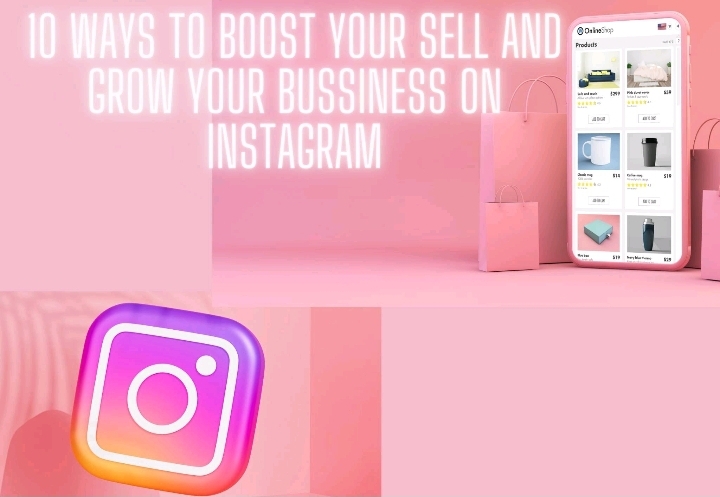 10 ways to boost your sell and grow your bussiness on Instagram @https://www.digitalish9.com/2023/05/06/d1810-ways-to-boost-your-sell-and-grow-your-bussiness-on-instagram/
90%Instagram users follow 1 brand
83% Instagram users follow different brand
80% user buy product or service from this platform when they need (source:www.searchenginejournal.com)
10 actionable ways to boost your sell on Instagram :
Since only posts with high engagement on Instagram can appear at the top of feeds, it is very impossible for new users to have their material seen there. So how do you eliminate it? then carefully read this article.
1)Do SEO on Instagram profile and create eye catchy photos:
There are several crucial components that might help you connect with your target audience while creating an effective brand presence. Implement the following tactics to raise the profile of your brand:
☆Choose a Memorable Profile Name:
Choose a user-friendly profile name that is consistent with your brand. To improve discoverability, make sure it pertains to your goods or services and contains important keywords.
☆Include Your Website Link:
To increase traffic and provide users the opportunity to learn more about your services, include the URL of your website in your profile bio. This can improve brand recognition and entice potential buyers to learn more.
☆Clearly Communicate Your Product or Service:
Use the bio area to briefly describe the products or services you offer. Be succinct and persuading while emphasizing your brand's distinct value offer.
☆Optimize Your Profile Picture:
Select a profile photo that accurately represents your brand or shows a connection to your goods or services. Make sure it is eye-catching and instantly identifiable so that visitors can recognize your business.
☆Utilize Eye-Catching Visuals in Your Posts:
Include relatable and eye-catching images in your postings. Create content that resonates with your target audience by understanding their thought process. You can catch their interest and maintain their engagement with your material by doing this.
☆Enhance Photo Quality:
By taking your shots in natural light, at sunrise, sunset, or on cloudy days, you can improve the quality of your images. Before taking the photo, avoid overexposure and verify the brightness levels.
☆Experiment with Different Locations and Perspectives:
To add diversity to your postings, take images from diverse perspectives. This can maintain your material aesthetically appealing and new.
☆Use Unique Photo Frames:
To improve the aesthetic appeal of your post material, incorporate original photo frames or layouts. You can help edit your photographs and add creative features by using programs like VSCO and Canva.
You may build a compelling and visually appealing brand profile that persuasively sells your goods or services to your target market by putting these tactics into practice.
2) post regular content :
Find a compelling method to attract your audience! Delight them with a variety of high-quality images and videos that are posted on time and at regular intervals.
Through captivating story posts, you can share your incredible spotlight moments. You can also give your posts some more flair by highlighting them. Take advantage of the chance to include a link to your website in your story as well.But there's more!
By constantly posting behind-the-scenes images and videos of your company, you may further cement your relationship with your audience.
Allow them to become fully immersed in your culture so that they can connect with you more deeply and be motivated by your journey.
3)Audience engagement :
Engaging audiences or clients is crucial for promoting and expanding any business. Responding to comments on your blogs and expressing gratitude for their input will help you establish a connection with your audience.
Don't forget to like and comment on posts about businesses that are comparable to yours.On occasion, you can design fun competitions where you provide discounts or free goods.
You can request participants in these competitions to like, comment, share, or utilize your hashtag. Additionally, they can produce their own images or movies showcasing your company.
4) Use hashtag:
Make a bigger impression online by using clever hashtags! Use a hashtag that is relevant to your content to start, and don't forget to add your brand's hashtag as well.
To reach a larger audience, include the most well-liked hashtag in your niche. Use a mix of hashtags with less competition and widely used hashtags to increase visibility.
Your content will be more likely to show up and get in front of your target audience when people search for those hashtags in this manner.
5) Use video content:
Make professional-level movies that show how your product is used, user-generated content, and behind-the-scenes footage.
These kinds of videos are very useful.Make sure your films are brief and use current trending popular designs and styles. You may connect with your audience effectively by keeping up with the most recent trends.
Always keep a certain objective in mind when producing your films. When creating your videos, think about the action you want your viewers to take after viewing your content.
Include something captivating in the first seconds of your video in order to capture viewers' attention right away and help you reach your goals. This will grab viewers' attention right away.
For your films to have more effect, include appealing captions. Choose Reels for short videos and IG TV for larger ones. You can efficiently reach your desired audience using these sites.
6)Instagram pod:
Join a small Instagram pod group of like-minded individuals who are keen to share their work with others. You can interact with each other's stuff by like, commenting on, and sharing it by working together within this group.
It's crucial to set aside time specifically for supporting and interacting with the other pod members, especially if you start producing your own content.
By selecting a smaller group, you can be sure that you can interact with everyone and avoid getting overwhelmed by the quantity of members.
Including images in these pods can be helpful in the early stages when you don't have a sizable following.
However, continuing to participate in these organizations takes time as your readership and popularity increase.
Instead, concentrate on producing original material and developing a close relationship with your audience.
7)Influencer collaboration:
To increase your reach, find influencers in your niche.Are you hoping to spread the word and attract more people to your cause?
Think about collaborating with influencers in your niche who have sizable fan bases.
Your message will automatically reach a larger audience when these influencers mention you in their posts, which will improve your followers, engagement, and conversions.
Find the influencers who best represent the ideals of your brand and your target market. Speak with them and start a conversation about a profitable partnership.
It's critical to make early investments in influencer marketing through such alliances.
Working with lesser-known influencers may demand a larger investment, but you can start by collaborating with those whose fan base is expanding.
Involving them in your collaboration can benefit your brand.Keep in mind that it's crucial to bargain prices with influencers while maintaining the integrity of your pricing system.
You may develop a trusting relationship and benefit from a fruitful partnership by being open with one another.
8)Use Emoji:
GIFs and emojis are frequently used online for amusement. They can, however, accomplish more if employed properly because audiences find them to be so engaging.
You can make your posts more personal, like a friend, by adding love, your feelings, and actions.
9)Target audience:
Just who are your clients? What do they like to do and how do they act? It is crucial to get to know them well. Once you have a handle on them, look for profiles that are comparable.
Follow them and make connections with other suggested profiles in the same niche if you find any.By doing this, you'll learn more about the types of material and interests of your audience.
These details can be used as hashtags to connect with a related audience and interact with them by leaving comments on their postings.
You will gain from developing these dependable ties. The likelihood that your audience will become a customer when they require your goods or services increases as they consume more of your content.
10)Follow profiles who are similar to your niche :
By sharing each other's material and working on numerous projects together, joining the same community might help you reach a wider audience.
In summary, it is important to understand your audience and the trends they follow in order to optimize your Instagram profile for conversion.
Following your audience's interests and trends will help you sell more effectively because it will make them feel more like friends and increase the likelihood of conversions.
IF you like our contents comment below what do you do to sell on Instagram or just stop by and say hi. To read our latest contents follow us .
You also can connect with us on Facebook:https://bit.ly/41avJSl , youtube:https://bit.ly/3UEGOZv
We provide digital marketing services ,so for your bussiness digital marketing need inquiry check our service page: https://bit.ly/3MXaYWk
If you are t-shirts manufacturer or t-shirts small bussiness owner and want some t-shirts design
for your next t-shirts then check our t-shirts design collection .
you will get it on our t-shirts design page here: https://bit.ly/40jdMzV
If you like to read e-books or want to buy some children books for kids check our e-books page here: https://bit.ly/41ErnD3
10 ways to boost your sell and grow your bussiness on instragram @https://www.digitalish9.com/2023/05/06/d1810-ways-to-boost-your-sell-and-grow-your-bussiness-on-instagram/