How to increase Website Traffic? A beginner marketer or business with poor engagement and declining ROI frequently asks this question.
Anyone who has a website or blog site has to increase traffic to increase CTA and ultimately increase ROI.
You also need to increase website traffic to take advantage of Google.
Today, I'll share a few suggestions for boosting website traffic that will give you ideas for boosting traffic to your website.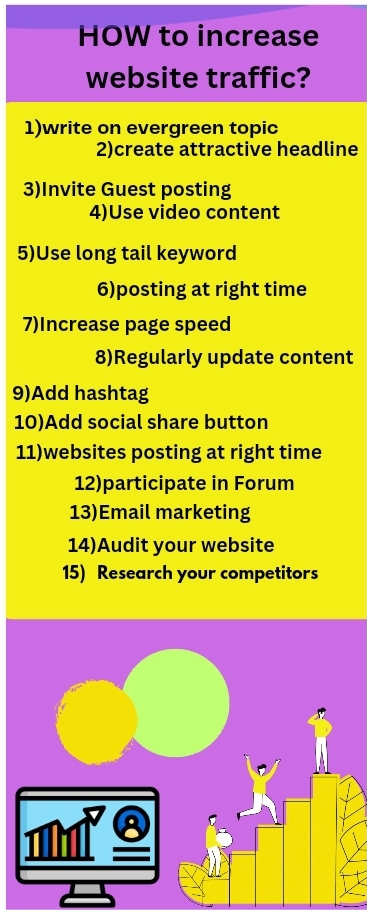 how to increase website traffic? @ www.digitalish9.com or, https://www.digitalish9.com/2023/04/16/how-to-increase-website-traffic/
In my previous post I shared about "How to create second domain website with first domain existing hosting?" This step-by-step guide will Help you to create multiple domain website . Go here https://bit.ly/3Lc4iSZ
Table of content:
1)Introduction
2)previous post recap
3)Table of content
4) How to increase website traffic
5) conclusion
How to increase website traffic?
(Summary)
1) Write on evergreen topic :
2) Create attractive headline
3) Invite Guest posting
4) Use video content
5) Use long tail keyword
6) Provide internal page link
7) Increase page speed
8) Regularly update content
9) Add hashtag
10) Add social share button
11) Website posting at right time
12) Participate in forum
13) Use email marketing
14) Audit your website
15) Research your competitors
how to increase website traffic? @ www.digitalish9.com or, https://www.digitalish9.com/2023/04/16/how-to-increase-website-traffic/
1)Write on evergreen topic:
Evergreen Topic: What Is It? It is the subject matter in any field that remains constant and won't change in the future.
Like "How To", "Best Tips," and "Top Tips" These are the topics that most people search for.
Because people who search on this topic are not experts, you should use fewer technical terms and passive verbs.
You should also always provide content that is helpful to everyone.
2)create attractive headline:
People these days don't like to read, thus they only read when the headline catches their attention.
Only 2/3 of a second gives you the opportunity to explain to readers the advantages of reading your content, which will encourage them to read the entire piece.
3)Invite Guest posting:
In the beginning, you should ask authors with significant followings to guest post on your site.
By doing this, you will draw the attention of their fans and hence improve traffic.
It's also likely that you will attract regular readers who will return to your website frequently.
4)Use video content:
Integrate video content into your website because people read less and watch more online. Use a few pictures to describe your topic and Matheson's film together or provide valuable information about your material in this video.
5)Use long tail keyword:
Long tail keywords have less competition, so give it a shot. With high search volume and low competition long tail keywords, you have a better chance of appearing in search results, which will enhance traffic to your website.
6) Provide internal Page link:
The core of website traffic is SEO. One of the key components of optimal SEO practice is the addition of internal links to posts.
It will assist you in presenting more content to your audience and growing the number of visitors to your website, both of which will improve the website's ranking in Google. Try to include links to 1-3 internal pages.
7)Increase page speed:
Do you enjoy visiting websites where you have to search and wait for many minutes? Obviously not!
The same exact thing to your audience.Because of this, they won't visit your website.
Regularly check your page speed with a page speed checker to enhance the functionality of your website.
8)Regularly update content
If your website has a lot of material, you should update it by changing the photographs, adding videos, modifying the videos, or adding something new to give it a new look on Google.
9) USE Hashtag:
Hashtags are widely used today, and hopefully they will continue to be so in the future.
Use Popular Hashtags Based On Platform, Add Related Hashtags To Your Content, Do That On Search Your Content Show, And It Will Give You Audience Who Will Like To Read, Share Your Content.
10)Add social share button:
Use the social share buttons outside of your posts to allow readers who enjoy your content to spread the word to their networks.
This will serve as indirect marketing, increase your exposure and the number of regular readers of your content, and drive more traffic to your website.
11)website posting at right time:
Have you checked the most popular hour for your website's audience? Verify it. It will provide you with more audience information. Post your material during that period to reach more people.
12) participate on forum:
A large source of traffic is forums. Try to add value by responding to questions, displaying a portion of your content if an answer is required, or sharing your link if the forum allows it.
There are many groups on the well-known forum Quora. Try to connect there and express your opinions on the subject.
13)Use email marketing:
Use email marketing if you have leads from people who are connected to your website and send emails with appealing headings and good templates to pique their interest in your content and drive traffic to your website.
14) Audit your website :
Conduct a weekly or monthly performance audit of your website and make any necessary improvements.
This can help you build a strategy for your weekly or monthly plan and provide more topical suggestions based on your audience.
15)Research your competitors:
To succeed in business, one must be aware of what other people in a similar industry are doing in order to develop a strategy that will encourage audiences to choose one piece of content over another.
Use Buzz Sumo to understand your competitors' market presence and the distance you must go to reach them.
Lastly to say, How to increase website traffic is a concerning matter for all website owner,blogger .
You might be in any stage of the development of your website or blog, but if you want to maximize its use and return on investment,
you should be.For your business, Google, or other advantages to come from your website or blog, you need to do more marketing and attract more visitors.
To get digital marketing, content writing and SEO related contents subscribe our newsletter @ www.digitalish9.com .
Follow us on Facebook @ https://bit.ly/41avJSl
Subscribe us on YouTube @ https://bit.ly/3UEGOZv
We provide also digital marketing, content writing ,SEO related services and make customize t shirt design for brands . Also, we have collection of e-books.
For service: https://bit.ly/3LdDL7P
For t shirt design : https://bit.ly/41wk4ND
For e-book : https://bit.ly/4093qCB
how to increase website traffic? @ www.digitalish9.com or,https://www.digitalish9.com/2023/04/16/how-to-increase-website-traffic/