To create a 2nd website and add new domain to existing hosting is complex bit with proper procedures can make it easy. Today I will share about full procedure of creating 2nd domain website and I choose Namecheap as a provider as it is cost-effective and easy to use.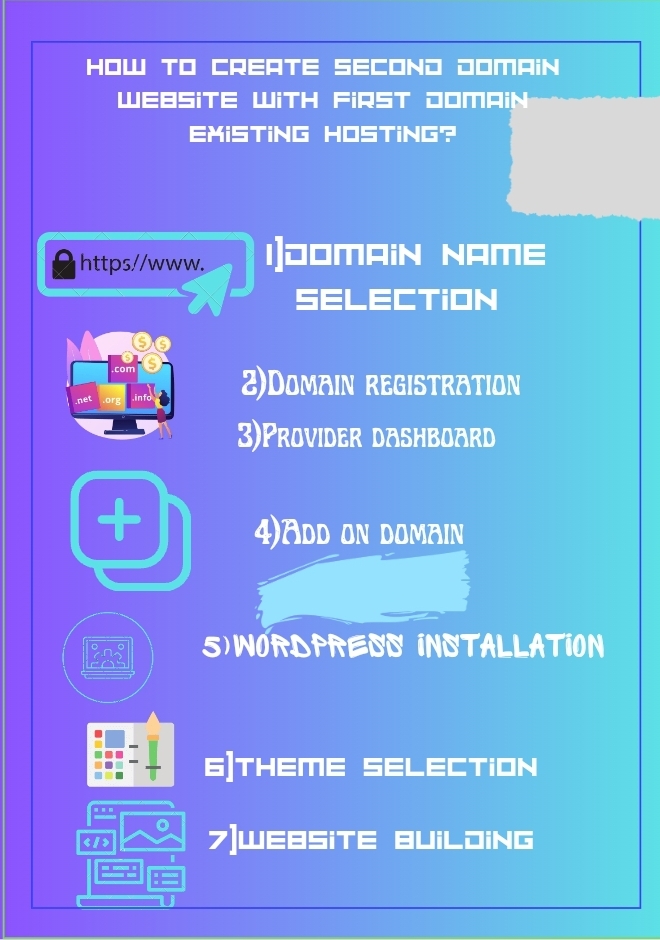 create second domain website with first hosting @ www.digitalish9.com or, https://www.digitalish9.com/2023/04/15/d10how-to-create-second-domain-website-with-first-domain-existing-hosting/
In my previous post I shared about Facebook effective travel ads Champaign . Learn more here https://bit.ly/403xxvjhttps://bit.ly/403xxvj
Table of contents:
1)Introduction
2)previous post recap
3)procedure of 2nd domain website creation with existing hosting
4) conclusion
Step-by-step guide to create 2nd domain website with existing hosting:
1)Domain name selection :
A good domain name must be selected before launching a new website.A good domain name might reveal more about your company and inadvertently take on the role of your brand voice.
Select the appropriate domain name for your business. Use Namecheap to select a domain name for your business.
They have this feature that will help you to select right one without being confusion. Visit: https://namecheap.pxf.io/daa0y7
2)Domain registration:
Visit namecheap and type your domain name of choice into the search field.If it's available, choose a domain ending in.com,.net,.org, etc. from the list.
After choosing an item to add to your cart, proceed to the checkout page and, if applicable, use a discount code.
When purchasing a domain, you can purchase SSL at the same time. You will receive it at the domain page, where you can also choose from a variety of other name products.
purchase fresh SSL Safe as first domain linked to Namecheap hosting's free SSL, and only one domain can link to this. You have the choice of paying with a card or topping up.
Many people use pioneer card to pay for this type online payment . If you also want to pay by pioneer card visit: https://bit.ly/3jroMvI .
After order completion you will get payment receipt email . Then go for next step.
3) namecheap dashboard:
Visit your Namecheap dashboard and verify the new domain that you recently purchased. Go to the DNS and name server option on the following screen by clicking the manage button.
Click on any hosting that you previously purchased or shared web hosting. After that, click the signature sign to save it.
4) Add on domain:
On the cPanel, go to the domain section and click the add-on button. On the following page, enter the domain name you purchased and created.
5)wordpress installation:
As soon as you return to the Namecheap dashboard, click the prior domain hosting link to access the cPanel option.
Scroll down to Softculous WordPress on cPanel. Click fresh installation when you get there. Add your new domain name to the website link field, followed by HTTPS and WWW. HTTPS and WWW will function here as soon as you purchase SSL.
Now enter your admin name, installation email address, and admin password. You must check your email before continuing because this email will function the rest of the time.
To use it during admin login, copy the password and save it in notepad. On installation, click. It will display congratulations for successful installation and send a copy to the installation email you provided.
6) theme selection:
Go to your new website's address and, if it is live or active, it will appear in searches. Then, go to the Wordress dashboard and select a theme and a website that is tailored to your business.
7)Website building:
Create your website right now using our site builder. Visit the plug-in menu, select add new, and then select Elementor, the most popular website builder, from the search box and
After installation, turn it on, go to the Elementor settings, and finish designing your website.
Lastly to say, to create multiple website come with many responsibilities because you need to be persistent .
Working on numerous projects at once can have a negative impact on productivity, but if your first website is successful and you are confident and able to manage your time well enough to work on multiple 2nd or 3rd websites, you should go for it.
If you like to read digital marketing, content writing, SEO related contents subscribe our newsletter @ www.digitalish9.com .
Follow us on Facebook @ https://bit.ly/416fPbM Subscribe our YouTube channel @ https://bit.ly/41vmvA8
For digital marketing, content writing, SEO services inquiry visit: https://bit.ly/43z5PJK
Fort shirt design inquiry visit: https://bit.ly/3KAKBmd
For E-Book collection visit: https://bit.ly/3zYSZXB
Create Second domain website with first domain hosting @ www.digitalish9.com or, https://www.digitalish9.com/2023/04/15/d10how-to-create-second-domain-website-with-first-domain-existing-hosting/