BREAD AND BUTTER OF YOUTUBE ARE SUBSCRIBER AND WATCH HOUR. WATCH HOUR WILL AUTOMATICALLY BE INCREASED WITH A GOOD NUMBER OF SUBSCRIBERS.HOW DO YOU RAISE YOUR SUBSCRIBER, THEN?
THAT IS THE YOUTUBER COMMUNITY QUESTION. I'll give you a few top tips today that will help you get more YouTube subscribers.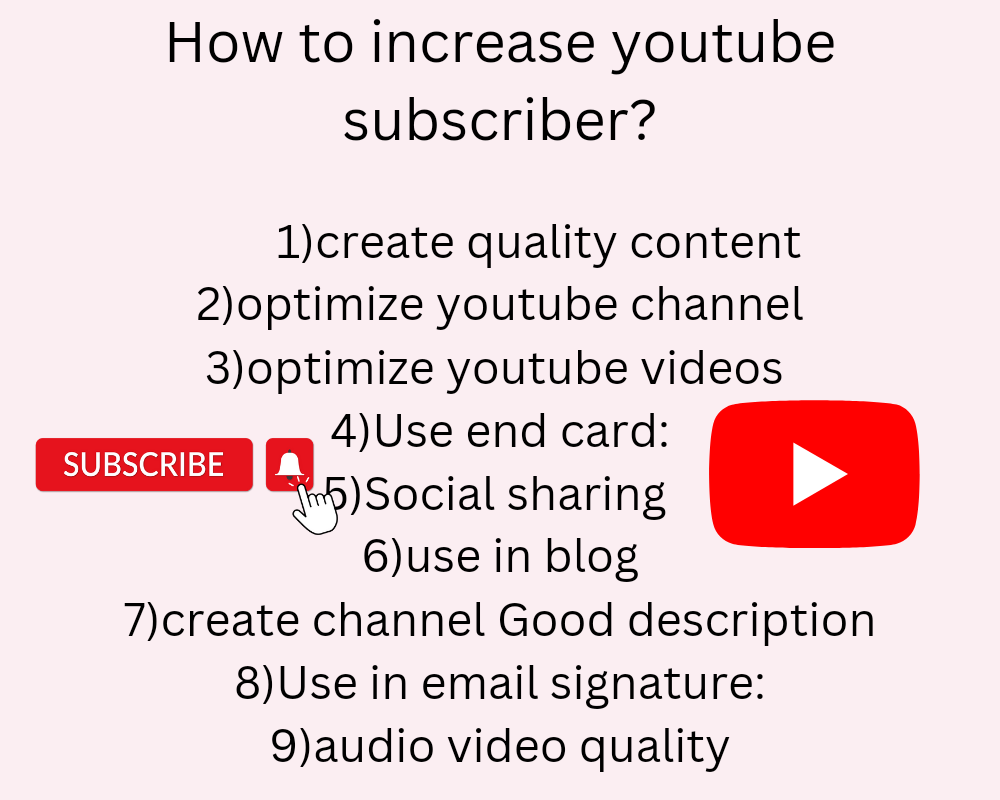 how to increase youtube subscriber? @www.digitalish9.com or,https://www.digitalish9.com/2023/04/19/how-to-increase-youtube-subscriber/
YouTube is the most popular platform for sharing video content, but if no one views or watches it, there will be no subscribers, so if you want to make the most of this platform, make sure your content is helpful and targeted to the right audience.
In my previous post I shared about " how to increase Instagram follower?" To increase your Instagram follower read https://bit.ly/40bxcql
how to increase youtube subscriber? @www.digitalish9.com or,https://www.digitalish9.com/2023/04/19/how-to-increase-youtube-subscriber/
Table of content:
1)Introduction
2)previous post recap
3)How to increase YouTube subscriber summery
4)Detail discussion
5)conclusion
How to increase YouTube subscriber?
(Summary)
1)create quality content
2)optimize youtube channel
3)optimize youtube videos
4)Use end card
5)Social sharing
6)use in blog
7)create channel Good description
8)Use in email signature
9)audio video quality
1)create quality content:
Always produce materials that are pertinent to your channel. In order for your audience to relate to it, try to provide more information in an understandable method.
ALWAYS CHECK YOUR CHANNEL ANALYTICS TO KNOW WHICH VIDEOS GO WELL AND TRY TO CREATE THAT TYPE VIDEOS. THIS WILL ATTIRE YOUR VIEWER TO BE SUBSCRIBER AND INCREASE CHANCES OF AUTO SHARE BY VIEWERS.
2)optimize youtube channel:
Go to your channel's home page and click the Customize button to optimize your channel. In brands, the layout contains every detail. Create a logo for your channel that describes the content of the channel.
Additionally, CREATE A BANNER THAT CLEARLY SHOWCASES WHAT YOUR CHANNEL WILL BE.
Use your channel name, specify the content that will be posted here, the frequency of posting, and any other pertinent details.
INCLUDE A TRAILER VIDEO, WHICH WILL BE THE FIRST VIDEO TO SHOW TO TOUR CHANNEL VISITORS.
USE THE MOST POPULAR VIDEOS ON YOUR CHANNEL AS FEATURE VIDEOS.
3)optimize youtube videos:
USE THE SAME KEYWORD IN THE FIRST THREE LINES OF THE VIDEO DESCRIPTIONS TO OPTIMIZE EACH VIDEO.
As it will appear beneath your title on searches, ALSO PROVIDE AN INTERESTING SUMMARY OF YOUR VIDEO IN THE FIRST PART OF DESCRIPTION. ADD YOUR CUSTOM SUBSCRIPTION BUTTON USING YOUR CUSTOM link .
FOR THAT ON ADDRESS BAR OF YOUR CHANNEL AFTER YOUR CHANNEL ADDRESS ADD ?SUB_CONFIRMATION =1
AND COPY FULL ADDRESS AND PASTE IT IN YOUR CHANNELS' DESCRIPTION. AUDIENCE WILL BE ABLE TO SUBSCRIBE YOU JUST ONE CLICK.
USE POPULAR HASHTAG IN LOWER PART OF DESCRIPTION. USE YOUR OTHER LINK AT THE END PART OF CHANNEL .
4)Use end card:
In the lower corner of a YouTube video, there is end-card small marketing.
YOU CAN FIND IT UNDER THE BRANDS SECTIONS, THEN CLICK THE WATERMARK OPTION, ADD THE END CARD, AND SELECT THE OPTIONS FOR YOUR NEXT VIDEOS OR YOUR CHANNEL LOGO.
All of these actions can result in subscribers for you.However, if you require more urgency, use SUBSCRIBE NOW THUMBNAIL. It draws your audience in directly.
5)social sharing:
USE IT HERE SINCE YOU KNOW SHARING IS CARING. Your social networks may be interested in the content you create, so share it with them by posting a link to it on YouTube.
YOU WILL FIND LOTS OF GROUPS AND FORUMS TALKING ABOUT YOUR TOPIC. TO HELP THEM ADD VALUE, SHARE THERE.
THERE ARE A LOT OF PEOPLE HERE, SO THE CHANCES OF GETTING A SUBSCRIBER ARE GREATER.
6)Use in blog:
INCLUDE YOUR YOUTUBE LINK IN YOUR BLOG POST. The reader of your blog will learn about your YouTube channel, and hopefully they will visit and, if they like it, become a devoted subscriber.
Try to regularly add videos to keep your blog subscribers more interested and connected.
7) create channel good description:
Describe your channel's focus. REASONS WHY THE AUDIENCE SHOULD READ THE CONTENTS.
DISCUSS YOUR EXPERIENCE AND END WITH A CLEAR CALL TO ACTION FOR PEOPLE TO SUBSCRIBE TO YOUR CHANNEL.
YOU MAY ALSO INCLUDE A LINK TO YOUR WEBSITE OR A SOCIAL MEDIA PAGE. USE THE CORRECT KEYWORDS FOR YOUR NICHE CHANNEL.
8) Use in email signature:
SIGNATURE YOUR EMAIL WITH THE LINK TO YOUR YOUTUBE CHANNEL.
THEY WILL KNOW YOUR CHANNEL WHEN YOU SEND AN EMAIL AND MAY BE ABLE TO BECOME A FUTURE SUBSCRIBER.Promotion increases conversion.
THE SAME RULES APPLY HERE. Utilize email marketing as well to reach a more specialized audience.
9)Audio video quality:
produces audio and video content that is high quality. Decide on a quiet location for audio recording, increase audio volume, and use HD view for video recording for the best results. YouTube continues to rank videos in HD.
Lastly one question aries that is "how can I increase my YouTube subscribers? " IS A REGULAR QUESTION FOR EVERYONE WHO IS ON THIS JOURNEY TO MAKE A GOOD LIVING, OR BEGINNER OR EXPERT WHO WANT TO EXPAND MORE OR KEEP SUBSCRIBER.
It only has one solution because it's an ongoing process, so test and get better.
Hope these 8 tips and trick hack will help you on your subscriber achievement. Happy Youtubing.
how to increase youtube subscriber? @www.digitalish9.com or,https://www.digitalish9.com/2023/04/19/how-to-increase-youtube-subscriber/
To read this type digital marketing related contents subscribe our newsletter @ www.digitalish9.com
Connect with us at Facebook https://bit.ly/41avJSl At youtube: https://bit.ly/3UEGOZv
digital marketing services for bussiness : https://bit.ly/3MXaYWk
SHIRT DESIGN For BRAND: https://bit.ly/40jdMzV e-book COLLECTION: https:https://bit.ly/41ErnD3