Find effective free resources to improve your YouTube rankings! Millions of people visit YouTube every day; it is the largest video platform in the world, second only to Google.
Users swarm to YouTube to look for a range of videos, and the site's algorithm classifies and presents pertinent content as appropriate.
It's critical for digital marketers to select the correct keywords. You may boost the chance that the right viewers will see your videos by using keywords that correspond with the searches made by your target demographic.
Take use of these free keyword research tools to expand your YouTube success.
In my previous post I shared about"How ChatGPT can affect on digital marketing?" If you want to learn how ChatGPT you can use . Go here https://bit.ly/411FrFX
Table of content:
1)Introduction
2)previous post recap
3)what is keyword?
4)what is keyword research
5)what is YouTube keyword research
6)Importance of YouTube keyword research
7)8 free YouTube keyword research tool alternatives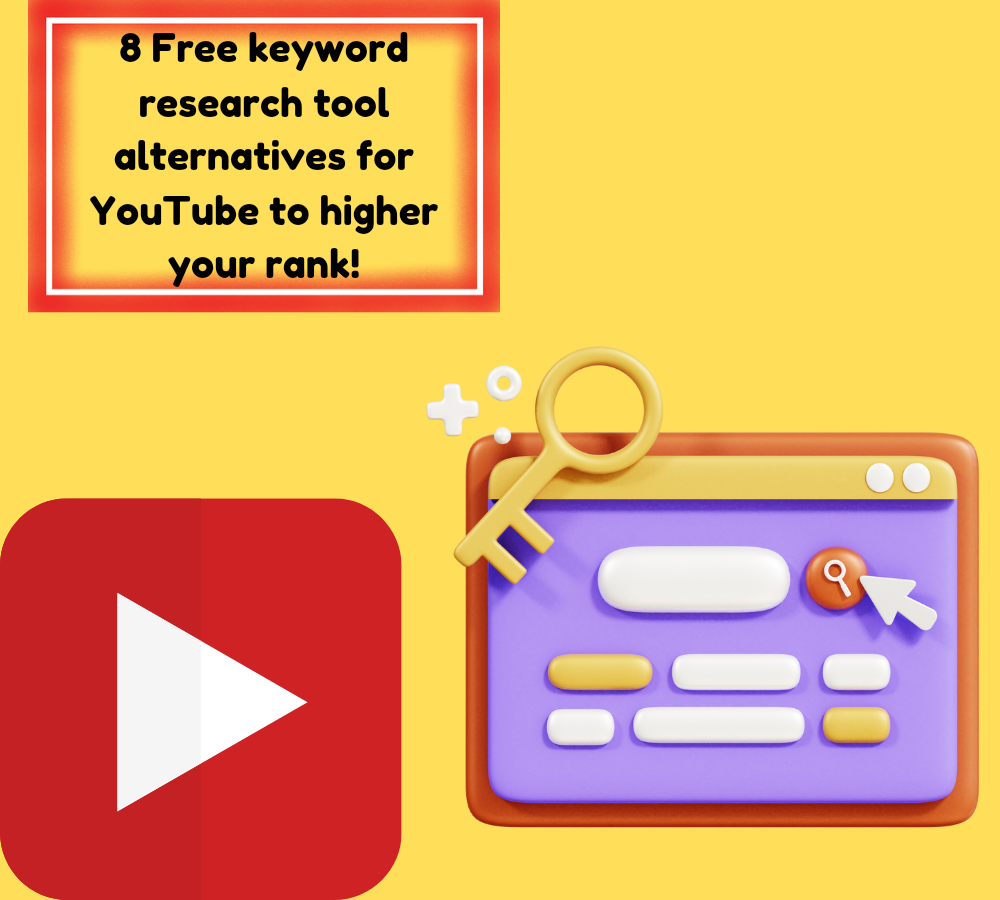 What is keyword?
On the internet, users employ specific terms when conducting searches. It works like a key to guide users through the enormous internet to the information they want.
What is keyword research?
This procedure involves researching keywords or search terms and making use of useful recommendations to make sure the relevant audience discovers the proper keyword.
What is YouTube keyword research?
Examining keywords that can be used on YouTube to draw in viewers who are interested in the subject matter linked with those keywords is part of this process.
Importance of YouTube keyword research:
It's vital to provide the appropriate content to the appropriate audience. Consider the following scenario: You are using paid YouTube promotion. You have a far lower chance of succeeding or attracting a loyal, long-term audience if your material is seen by the wrong people. In fact, this misalignment may cause your investment to lose money.
Because of this, it's crucial to safeguard your investment and regard the time of your audience by refraining from disseminating improper content. It's crucial to include pertinent keywords in your content so that people who are looking for comparable topics in your target audience may quickly locate and relate to your content.
8 free YouTube keyword research tool alternatives:
I've discovered that using some free tools makes it easier for me to achieve the necessary results, therefore I've listed 10 of them below. Use any of it, at least.
1)YouTube analytics :
You may get important information about your audience and content through YouTube analytics, which also helps you analyze different facets of your channel's effectiveness. You may learn a lot about your viewers by using these data, and you can work out how to efficiently reach a larger audience.
Examining the traffic origins is one of YouTube analytics' main advantages. You can use this function to pinpoint the particular websites or search phrases that direct people to your content.
You can learn more about your audience's origins and the types of material that most appeal to them by examining the reach bar's statistics. It also enables you to figure out which search terms your viewers use to locate your videos.
The suggested videos report, which shows viewers a list of suggested videos after they watch a video, is another crucial element.
You can learn more about the videos that are frequently recommended alongside yours by carefully reading this report. You can strategically use suggested videos to increase traffic to your channel by using the information provided.
This strategy entails marketing your own videos through the suggested videos area as well as using the videos of other creators who have similar types of content to your own to increase channel traffic.
Ultimately, you may improve your exposure and draw in more people by optimizing your content utilizing the search terms that your audience frequently uses.
You may improve your content strategy and engage with your target audience more successfully by utilizing YouTube analytics and putting the insights you learn into practice.
2)Google trends :
In order to ascertain whether your content is engaging the audience, Google Trends offers a quick approach to find the trending content of the previous 12 months.
To achieve this, follow these simple steps:
1)Visit Google Trends.Click on the "Explore" tab.
2)Enter your search term.
3)Under the "Web" section, select "YouTube search.
4)"Evaluate the results to gauge the interest of the audience in your content
You may quickly determine whether or not your content appeals to the audience by using Google Trends and taking these actions.
Discover Term Trends by Country and the World: Unlock Content Suggestions & Keyword InsightsEasily investigate regional or international trends for any term of your choosing.
You can use the navigation below to locate pertinent inquiries that will assist you in coming up with interesting material, enticing headlines, and persuasive descriptions. Discover useful keywords and get ideas for your next outstanding piece of content.
3) YouTube search prediction:
Have you ever noticed that a list of suggestions is provided beneath your search results when you conduct a search on YouTube?
The subjects and terms that are suggested here are the most popular ones. The most popular and frequently searched recommendation is at the top, while the ones at the bottom are noticeably less popular.
It's advisable to include pertinent content or search terms that correspond with the top recommendations in order to properly optimize your movies. Your video's optimization and platform visibility will both improve with this strategy.
4) Youtube trending:
Have you ever noticed that a list of suggestions is provided beneath your search results when you conduct a search on YouTube?
There is a trending tab on YouTube that displays popular content from a variety of genres, including music, gaming, and movies.
You can get ideas for the kinds of content and keywords that are currently succeeding from the viral videos that are listed below this page.
You can increase traffic and engagement by including recommendations for popular videos into your own content.
5) GOOGLE Ads keyword planner:
The practice of conducting keyword research is common, particularly for locating popular search phrases.
Despite the lack of a dedicated YouTube keyword research tool, it can nevertheless give you more focused phrases with high search traffic.
You have the choice to do keyword research using both free and paid approaches. Keyword research is still an option if you'd want a cost-free method.
However, you may also use keyword research for that reason if you're going to run Google Ads and bid on a search term to get results for your YouTube channel.
6)Ah ref keyword research:
Follow these methods to conduct a quick and easy keyword search on Ah ref:
1)Go to Ah ref and locate the search box.
2)Type your desired search term in the search box.
3)Choose YouTube as the platform for your search.
4)You will receive monthly search results and competition data.
5)Click on the relevant terms to access detailed information.
6)Ah ref is widely recognized as the leading platform for YouTube keyword research.
7)All the data provided is accurate and regularly updated on a monthly basis.
7)vidIQ :
Both a free and a premium version of VidIQ's service are available. All you have to do to use the free version is register and link your YouTube channel.
Once connected, VidIQ will automatically make recommendations for topics with a large audience. The advantage of getting three free daily idea suggestions is yours.
With their free services, learn how to optimize your content in a simple and convenient way.
Profit from free keyword research, a tracker for your channel's monetization, a wealth of keyword possibilities, and AI-generated title ideas.
Utilize the plethora of options at your disposal to optimize the performance of your content.
8)SEMrush:
Join SEMrush today to take advantage of 10 daily free keyword research assignments.
While the free version is excellent for simple YouTube keyword research, choosing the subscription version grants access to further capabilities and produces results that are more thorough.
The paid edition is your best option for the greatest results if you want to dig deeper into your keyword analysis.
8 free keyword research tool alternatives for YouTube to higher your rank @ https://www.digitalish9.com/2023/05/03/d178-free-keyword-research-tool-alternatives-for-youtube-to-higher-your-rank/
Finally, I want to emphasize that you should start by using these 8 free alternatives to commercial tools for researching keywords on YouTube. Once your content starts to perform well, you should upgrade to the paid versions of these tools, which include SEMrush, vidQ, and tube buddy.
To read our latest contents subscribe our newsletter at www.digitalish9.com
Connect with us on Facebook: https://bit.ly/41avJSl
On youtube: https://bit.ly/3UEGOZv
FOR digital marketing services bussiness inquiry : https://bit.ly/3MXaYWk
To buy t-shirt design check our design collection : https://bit.ly/40jdMzV
To buy kid story e-book : https://bit.ly/41ErnD3